Programs
Children are welcome to enroll at Happy Days on their 2nd birthday. Our large facility has two distinct buildings and three large playgrounds, enabling the separation of younger and older children.
Younger Children's Building
The first building is specifically designed for our 2 and 3 year olds - kindly nicknamed Bluebirds and Butterflies - each of which has their own classroom. In addition there are three large shared rooms for art activities, indoor play, music and movement, and snack and lunch. Separate areas are offered for nappers vs. resters, so that each child gets the quiet time they need. The outdoor area is nicely shaded and has space for trikes, sand and water play, climbing structures and all kinds of imaginative play. During the school year, our curriculum follows themes based on children's interests and curiosity and the seasons, with exposure to a "Letter of the Week". Over the
summer
we take a journey around the world.
Older Children's Building
When they are ready to transition, 4 year-olds are moved to the second building into one of three pre-kindergarten classrooms with access to the playground for older children. Here they become Gummy Bears, Honey Bears or Teddy Bears, and the curriculum based on the "Letter of the Week" includes pre-reading and writing activities, as well as arts & crafts and science projects. Cooking on Wednesday's is one of the highlights of the week that will return post pandemic! Over the summer months, children join us in learning about and celebrating traditions around the world.
Kindergarten through 5th Grade
Happy Days also offers programs for Kindergarten students and students in 1st to 5th grades. Kindergarten students can join us before or after their morning or afternoon Kindergarten class. First to fifth graders can join us for after-school hours where they get a chance to play and get a jump on homework. We offer a convenient van pick-up service for students attending Springhill Elementary School several times daily. Our
Summer Programs
for school-aged children include arts & crafts, cooking, and virtual trips to explore places around the globe.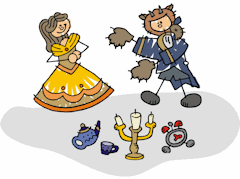 PROGRAM
AGES
RATIO
Bluebirds
2's to early 3's
1:6
Butterflies
3's to early 4's
1:8

Gummy Bears
Honey Bears

Teddy Bears

Three separate classrooms for 4's to early 5's
1:10
Kindergarten
5's and 6's
1:12
School Aged
1st to 5th Grade
1:12